What is Selvedge?
There is only one OG.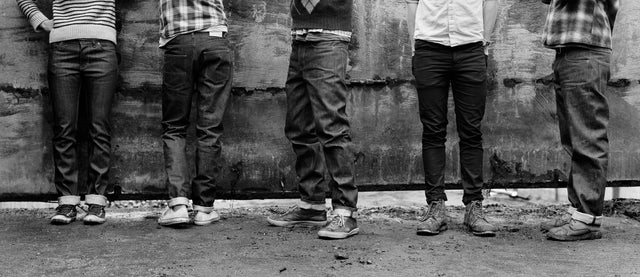 At the start, selvedge jeans are difficult to love. They are stiff. They feel like wearing a cardboard box. Some people don't ever get past this stage. But it's an investment that will reward you over time. They get better with age. And better.
Happy Hiut Customer
Why Japanese Selvedge?
They lead the way. Their ethos is all about Kaizen – the art of continuous improvement. The Japanese have an obsession with denim. Selvedge denim in particular.

Sold in underground markets, the very first jeans were brought over to Japan after American soldiers left them behind after World War 2.

They started copying the American mills, focusing solely on their technique and kept getting better.

They saw no great honour in mass appeal. Only in being the best.

The Japanese bought old shuttle looms from the mills that went mainstream, so they could make the best denim.
The old way.

Using the same methods as they did 50 years ago. The best way. The human way. No automatic button. No simple 'on' switch. There is a person beside these looms at every step of the way.

And that is why the old shuttle looms make the best selvedge denim.

And the Kuroki Denim mill makes the best in the world.
Do you have to wear them with a turn-up?
Nope.

It comes down to personal choice.

But, that said...

Most people do.

They are proud to show off that beautiful red-line selvedge.

It's a badge of honour for true denim geeks.
How do they fade?
Not everything in life gets better with age, but high-quality selvedge denim does.

There is nothing quite like the fade of selvedge denim.

The transition from raw denim to a beautiful pair of jeans is not a fast one, but it is a rewarding one.

Getting to see a pair of our jeans a few years off the shelf is something that always brings me a sense of joy whenever it happens.

The life that has happened in those jeans, the stories that have been told. You can see it in every mark.